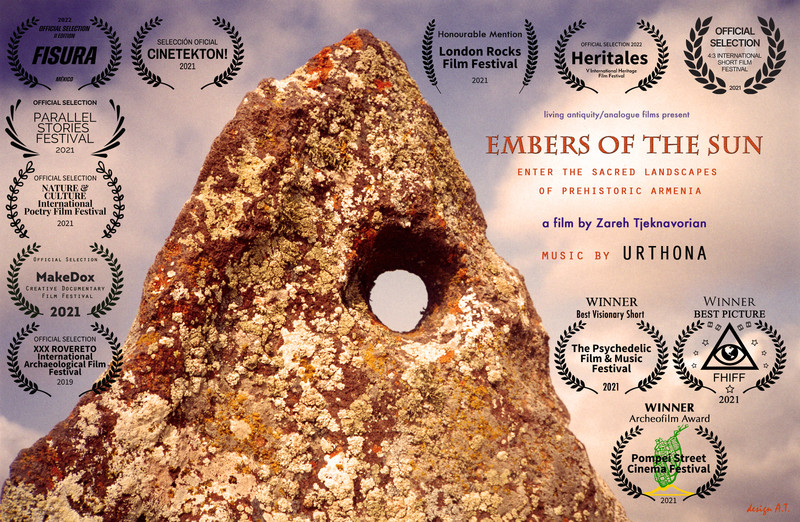 The first lasting structures weren't built for the living, but for the dead.
Megaliths, the 'great stones' erected during the Neolithic and Bronze Age, are the beginning of architecture, the first expressions of our domination of the planet and her resources; of our ability to alter and shape the earth. They signal the r/evolutionary moment some 10,000 to 5,000 years ago when our ancestors razed the forests to cultivate plants and breed the animals they'd tamed, spreading and multiplying in an ever expanding pattern of settlements and chiefdoms, boom and bust.
Through the agency of stone, the gods, and the cosmic dead, these first farmers affirmed their divine right to the spaces they cleared and claimed. They carved petroglyphs on living rock, constructed tombs for the ruling elite and raised monoliths and stone circles to mark social and religious boundaries that transformed the natural landscape into a cultural landscape; a ritual topography that linked soil and sky, past and present, with man at its center.
The great stones bear witness to a time when we first stood apart from the wilderness and looked back at it in awe; the moment of separation and the birth of the modern world: the biblical Fall. Like visual cues, the monoliths direct our gaze across time and space to ancient horizons that enclose us still. Facing them we confront ourselves and our origins in an agrarian death cult to which we are heir.
A journey into the sacred landscapes of prehistoric Armenia, "Embers of the Sun" evokes a primeval earth transfigured by monuments of mysterious design: rock art found in the desolate volcanic wastes of the Geghama and Syunik mountains, solitary monoliths and cyclopean tombs in rural fields, and the megalithic complex of Zorakarer; vestiges of a lost Bronze Age cosmology that haunt the modern mind.
The impressionistic aesthetic of analog video – the cinematic equivalent of watercolor or polaroid – conveys the emotional impact of the monoliths and the numinous beauty of the spaces they address. Equally integral is the soundtrack by the British group Urthona, taken from the album "Urthona plays Atlantis?", a collaboration of the band with legendary musician, writer and prehistorian, Julian Cope. Neil Mortimer's thundering guitar, Michael York's ethereal duduk (a traditional Armenian wind instrument), and Cope's ritualistic percussion conjure up a vanished realm that mirrors the film's images in sound: the vastness and majesty of the mountains, the raw energy of the elements, the intimation of ancient powers, cosmic and chthonic.
At once a lyrical documentary and archeological science fiction, "Embers of the Sun" is an apocalyptic vision of the future in the past. In the prehistoric landscape it sees a post-historic age where civilization ends where it began: an event horizon through which we disappear – by ecological disaster, famine, plague, or genocide – leaving only the ruins of our dreams behind..
Director: Zareh Tjeknavorian
Writer: Zareh Tjeknavorian
Producer: Visa Koiso-Kanttila
Camera: Vahagn Ter Hagopian
Editing & Sound Design: Alina Tjeknavorian
Music: URTHONA
Runtime: 12 minutes 27 seconds

Country of Origin: Armenia
Country of Filming: Armenia
Language: English
Subtitles: English

Zareh Tjeknavorian
In the words of the visionary musician and writer, Julian Cope:
"Zareh Tjeknavorian is something else and I don't know what, but he's actually from the same planet as me and it's a moving thing. He's a…poet, a Metalhead AND a Krautrocker, and a de-coder of stuff."
Zareh was born in Fargo, North Dakota into a family of musicians and grew up in Tehran, London, Frankfurt, Paris and New York. At age 4 he abandoned his dream of being an astronaut on watching the horror classic "The Brides of Dracula" in Iran. After graduating from NYU film school he began his directing career amidst the ruins of the USSR, drawn to stories set in the aftermath of genocide and dictatorship. Over the years he's pursued his obsessions with esotericism, ancient life-ways and forgotten histories through short and long-form films. His acclaimed "Enemy of the People", about life during the Stalin purges, was broadcast on PBS and recommended by National Geographic as one of the three most important movies about Armenia, along with Sergei Parajanov's "The Color of Pomegranates" and Atom Egoyan's "Ararat."
Zareh's work screens regularly at festivals and has won numerous awards, including the Grand Prix at the 2019 Kinoskop Analog Experimental Film Festival in Belgrade, the Theremin Award for Best Sound Design at the 2019 Hermetic International Film Festival in Venice (where he won Best Foreign Documentary in 2018), Best Experimental Film at the 2021 Caligari Festival Internacional de Cine de Terror in Valencia, Best Visionary Short at the 2021 Psychedelic Film & Music Festival in NYC, and the Mercure Award for Best Picture at the Hermetic International Film Festival in 2021.
His curiosities and obsessions as a director go beyond the frame: The Enigma of Space, a panoramic study of the mysterious 'dragon-stones' of the South Caucasus, was recently published by the Institute of Archaeology & Ethnography in Yerevan, Armenia.
Zareh currently lives in Denmark, where he teaches Directing at the European Film College
---