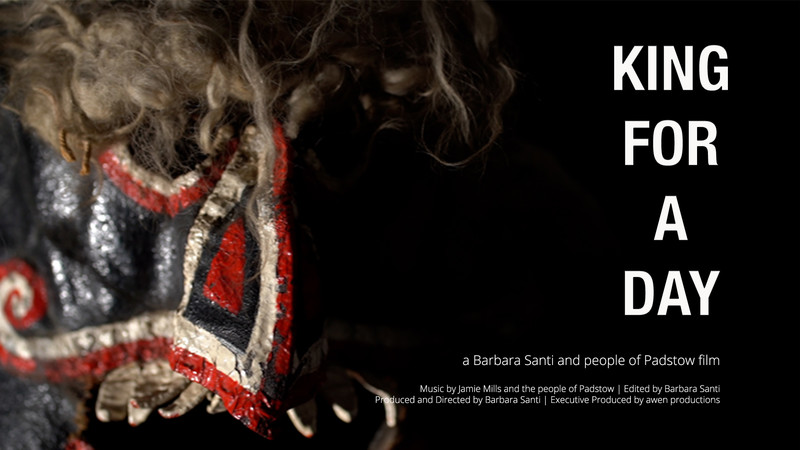 King for a Day is a poetic archive-led documentary immersing us in the personal story of the people of Padstow in Cornwall, their ancient rituals and the challenges they face in a rapidly changing world. A cinematic journey interweaving audio-visual archive spanning over 100 years. Filmed over nine years in the shadow of Brexit, the documentary reveals the fragility of a community under duress. Will this be the last generation to tease the 'Old Oss' from his stable to welcome the Summer?
King for a Day is a collaborative documentary, an intimate portrait of a place and community pushed to the margins. Tensions between tradition and progress bring to the fore the importance of cultural identity and the relevance of tradition in our globalised society. For the first time we see the significance of May Day through local eyes.
King for a Day is a story about friendship, hope, celebration and unity.
Director: Barbara Santi
Producer: Barbara Santi
Runtime: 1 hour 1minute

Country of Origin: United Kingdom
Country of Filming: United Kingdom
Language: English
Subtitles: No

Barbara Santi
Barbara Santi is an award winning documentary filmmaker and co-founder director of awen productions CIC based in West Cornwall.
At the heart of Barbara's work is to raise under-represented peoples voices through film. She's made documentaries for Channel 4 and Carlton and shown films on Reel Stories, FourDocs, Current TV, The Community Channel, galleries, museums, conferences, film festivals and has toured extensively promoting film in rural settings.
Barbara's work focuses on film and digital technology for positive social change. She's made creative documentaries on subjects as diverse as rural issues, archive film, local heritage/history, human rights, youth culture, disability, farming, globalisation and the environment.
In 2020 Barbara was one of 10 female entrepreneurs in the UK selected to take part in Creative England's Female Founders Scale Up programme, an eight-month dedicated and prestigious scheme for ambitious female founders of screen-based companies. Barbara has recently completed a film-by-practice PhD at Exeter University where she was awarded a scholarship.
---