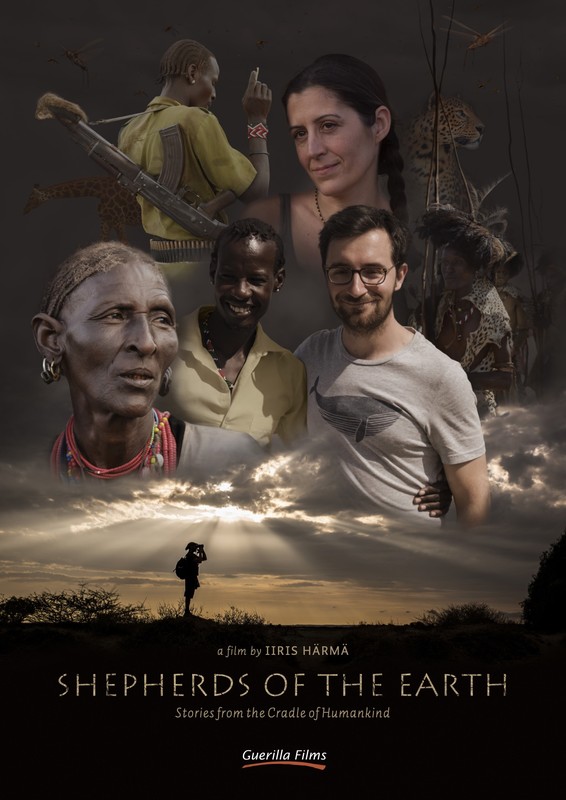 This is a story about us – Homo Sapiens. Where do we come from and where are we heading to?
The story of the film takes place in Turkana, Kenya. This unique place is also known as the
Cradle of Humankind where the discoveries of prehistorical human origins are made. The area
is nowadays inhabited by the indigenous pastoral tribe called Daasanach.
Our main character Álvaro Fernández-Llamazares, Spanish ethno ecologist arrive to Turkana to
study the relationship between humans and nature. He becomes friends with a tribe member
Job Nasak, who guides him into the daily life of the village.
Alvaro gets impressed by traditional fables and animal stories of the tribe and he is asked
to collect them for the first ever Daasanach language story book. The stories paint a picture
of vivid nature and a rich wildlife. But while exploring the natural park Alvaro discovers dry
and bare landscape with hardly any animals left.
So starts a fascinating story from the Cradle of Humankind, a story of the nomadic people's
struggle to survive, of poaching, nature reserve rangers, tribal wars over scarce resources and
prehistoric fossils. The two worlds of biologists and the tribe members collide revealing the values
of wildlife and nature for both..
Director: Iiris Härmä
Writer: Iiris Härmä
Producer: Visa Koiso-Kanttila
Runtime:  1 hour 14 minutes 30 seconds

Country of Origin: Finland
Country of Filming: Kenya
Language: English
Subtitles: English

Iiris Härmä
M.A. Iiris Härmä is a documentary film director renowned for her artistically high-quality films
that depict their characters in a gentle and humanistic way.
She has produced and directed several award-winning short and feature-length documentaries
that have acclaimed international reputation at various film festivals around the world. She hasa degree in cultural management and a degree in cultural studies (ethnology).
Her previous work WHO MADE YOU? (2019) is a film about artificial intelligence and ethics. The film asks what the development of AI means for humanity, community and how it will affect ourperception of a human. The film was broadcasted by many international TV-channels (NHK, SVTUR, YLE etc.) and won several festival awards like the Best Documentary Film Award in Raindance(UK) and KI-Science Film Festival (Germany).
Selected Filmography
WHO MADE YOU? (2019)
LEAVING AFRICA (2015)
THE CHILD OF SILENT WINTER (2012)
LOOK AT ME (2010).
---