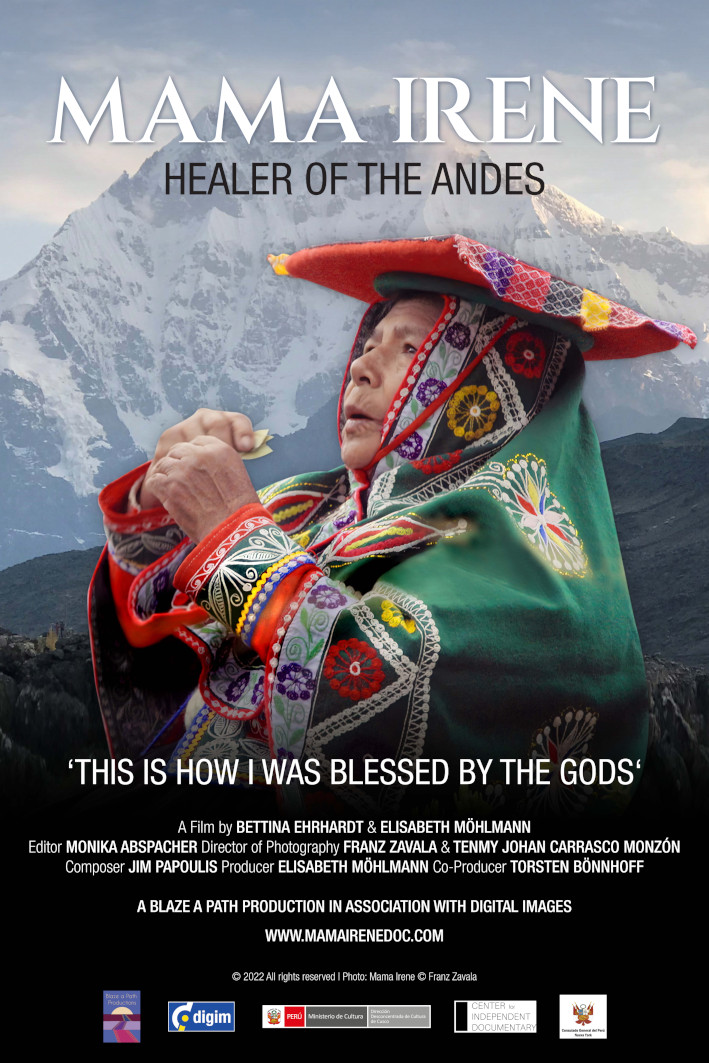 Mama Irene, Healer of the Andes, is the story of a remarkable 84 year old Shaman (Healer) from Peru who draws upon indigenous knowledge and traditions in danger of being lost forever. This film is not only a vital document of endangered wisdom; it is also a story about Women empowerment and a testament to living harmoniously with Mother Earth.
Director: Elisabeth Möhlmann, Bettina Ehrhardt

Writer: Elisabeth Möhlmann, Bettina Ehrhardt
Producer: Elisabeth Möhlmann
Editor: Monika Abspacher
Cinematographer: Franz Zavala, Tenmy Johan Carrasco Monzón
Sound: César Centeno
Original Music: Jim Papoulis
Co-Producer: Torsten Bönnhoff
Still photography: Carl A. Hyatt
Key Cast: Juana Irene Contreras Pumayalli "Mama Irene"
Key Cast: Puma Fredi Quispe Singona
Key Cast: Natividad Pañiuhuara Contreras
Key Cast: Natividad Pañiuhuara Contreras
Runtime:  1 hour 11 minutes

Country of Origin: United States
Country of Filming: Peru
Language: English, Quechua, Spanish
Subtitles: English
 
Elisabeth Möhlmann, Bettina Ehrhardt
New York-based Elisabeth Möhlmann is the founder of Blaze a Path Productions, and a former actor and stage director. Born in Munich, Germany, Elisabeth grew up in Rio de Janeiro, Brazil and studied philosophy before moving to New York City to study acting at the Lee Strasberg Theater & Film Institute. She later returned to New York City and established a successful real estate career before meeting Mama Irene. That fateful encounter helped heal Elisabeth from a debilitating illness, and ultimately sparked the creation of this project. Mama Irene has granted Elisabeth the exclusive rights to document her life and healing crafts.
MAMA IRENE, Healer of the Andes is Elisabeth's debut as a filmmaker.
BETTINA EHRHARDT
– Co-Director/Co-Writer
Documentary film producer and director Bettina Ehrhardt holds a Master's degree in French Literature and a diploma in Film Studies both from Lyon 2 University.Her favorite subjects range from ethnology. nature and politics to the arts. Passionate about music, she has made several films dedicated to composers and conductors like Claudio Abbado, Zubin Mehta, Kent Nagano, Pierre Boulez, Luigi Nono, Helmut Lachenmann, Bernd Alois Zimmermann. Her films are broadcast on channels as diverse as ZDF, Arte, WDR, BR, Radio Canada, RAI and were awarded on international documentary film festivals. In 2009 she founded bce films & more GmbH. A tireless traveler, by taste and profession, Bettina Ehrhardt is based in Munich.
---