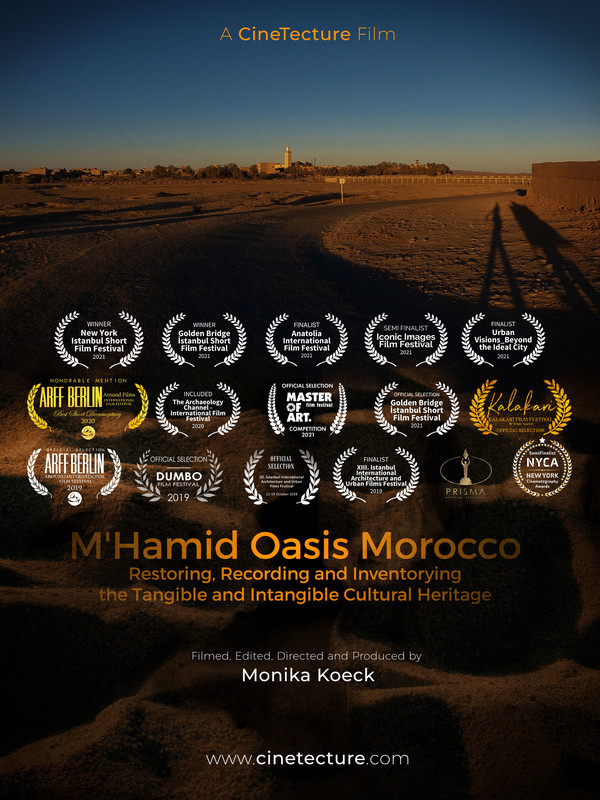 The film M'Hamid Oasis Morocco documents the restoration and recording work undertaken by an international team of researchers and volunteers in the most remote oasis of the Draa Valley, at the edge of the Sahara Desert. In 2019, ArCHIAM (University of Liverpool) and the NGO Terrachidia (Spain) teamed up in conducting an "Earthen Architectural Heritage Workshop" in M'Hamid/Morocco. Involving the local community as well as architects, engineers and earthen-architecture enthusiasts from around the world, the team restored and documented the oasis' endangered cultural heritage. In addition, the workshop provided an opportunity for local young people to get trained by master builders in earth building techniques, which otherwise would be forgotten.
The film creates awareness of the cultural significance of this place and its struggle of survival, highlighting its tourism potential. It will inform government bodies and public/private stakeholders to assist in securing funding to implement sustainable development initiatives that can reactivate the settlement through the synergy of heritage preservation/economic and infrastructural development/community participation and empowerment.
Director: Monika Koeck
Writer: Monika Koeck
Producer: Monika Koeck
Key Cast: the residents of Ouled Youssef and researchers, workshop participant from around the world.
Runtime: 22 minutes 32 seconds
Country of Origin: United Kingdom
Country of Filming: Morocco
Language: English/Spanish
Subtitles: English

Monika Koeck
Monika is a professionally trained architect, dancer and award-winning filmmaker. She is a Cambridge University graduate whose artistic work is shown on festivals and exhibitions world-wide. Monika Koeck started her career as a professional ballet dancer, before entering the world of architecture and filmmaking. Monika taught architectural design as Visiting Professor in the US and Research Associate in the field of architecture and film at the University of Cambridge. Monika is founding director of the Liverpool-based film/architecture production and post-production company CineTecture Ltd and holds a part-time teaching position at the University of Liverpool. Monika has a large portfolio of academic, commercial, and art-based moving image productions. In her artistic Oeuvre, her work emphasises the creative use of the 'body in motion' as well as the use of 'space' and 'screen space' as a narrative expressive element. In terms of research, her specialty is the production of films, digital animations and motion graphics that emphasise and illustrate complex themes in an understandable and accessible way to allow for greater impact.Her artistic work regularly features at major international exhibitions, such as the Venice Biennale in Architecture (2000) and the German IBA Exhibition (International Building Exhibition 2004, 2005), The Beyond Media Festival (Florence, 2009), the Filmforum (Udine, 2009), The Architecture & Design Festival (New York, 2010; Chicago 2011), The Film Casino (Vienna, 2011), in a curated show in the Fondazione Maxxi (Rome, 2011) and recently at The Arts Institute of Guangdong, China. Monika won the prestigious TVe Global Sustainibility Film Award in 2013 and is this year again nominated for best film (outcome pending). More recently, her film 'Liverpool(e): Mover, Shaker, Architectural Risk-Taker' was the opening exhibition film for RIBA's new branch and gallery space in the North. Since then she created audio-visual content (film and soundscape) for the second exhibition at RIBA North, Ceramica. Recently, she worked on 2 Virtual Reality projects, one was featured at Liverpool's International Festival of Business in June 2018, making Liverpool's iconographic pieces of architecture to experience in interactive immersive film (stereoscopic 360 degrees), the second is a project for FutureCity London and the London Bridge Team, featuring a Happening on 1 March 2018, over 100 people from over 20 choirs performed IMAGINE amongst the London Bridge Station concourse crowds, while Yoko Ono's IMAGINE PEACE played across the screens, to announce a Culture Plan for the Front Stage of London. The VR film was presented to Yoko Ono as a present for her 85th birthday. Next to having being commissioned by major cultural organisations, her own artistic work is regularly featuring at major international exhibitions and festivals, such as the Venice Biennale (2000), IBA Exhibition (Germany, 2004, 2005), Beyond Media Festival (Florence, 2009), FilmForum (Udine, 2009), The Architecture & Design Festival (New York/Tribeca, 2010; Chicago 2011), The Film Casino (Vienna, 2011), The Fondazione Maxxi (Rome, 2011) and, recently, at The Arts Institute of Guangdong, China. Monika won seven film awards; the TVe Global Sustainability Film Award in 2013, 2019 and 2020 awarded at BAFTA; the Vegas Movie Award in 2020; The Impact DOCS Award in 2020; the Iconic Images Film Award in 2021 and the Golden Bridge Istanbul Short Film Festival in 2021, among several nominations and honourable mention.
---