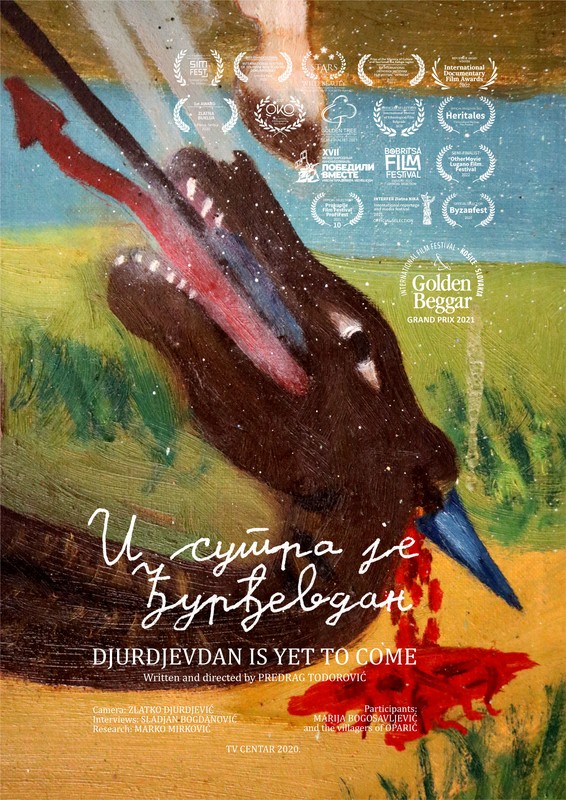 Tomorrow is Djurdjevdan*. The locals of Oparic are preparing the Saint Patron's Day dedicated to the Holy and Great Martyr George and they are glorifying the holiday that follows winter, evokes spring and awakens all the senses. Despite the fertile land, there are fewer cultivated fields in Oparic, and more weeds and abandoned gates. However, people, plants and legends in this village in the Levac area are still weaving colorful Djurdjevdan's wreaths together. From the beginning of time to Instagram.
* Djurdjevdan (St. George's Day) has been in the National Register of Intangible Cultural Heritage of Serbia since 2015. This Christian and national holiday is celebrated throughout Serbia, but each region nurtures specific beliefs and customs that celebrate St. George's Day.
Director: Predrag Todorović
Writer: Predrag Todorović
Producer: Predrag Todorović
Camera: Zlatko Đurđević
Researcher: Marko Mirković
Interviews: Slađan Bogdanović
Keycast: Marija Bogosavljević, Miloš Lazić

Editor: Predrag Todorović
Runtime: 50 minutes

Country of Origin: Serbia
Country of Filming: Serbia
Language: Serbian
Subtitles: English

Predrag Todorović
Predrag Todorovic (1976) has 25 years of work experience in media production as an editor, producer and director. In collaboration with his colleagues Marko Mirkovic, Sladjan Bogdanovic and Zlatko Djurdjevic, he is the author of the numeros documentaries awarded at TV and film festivals.
---