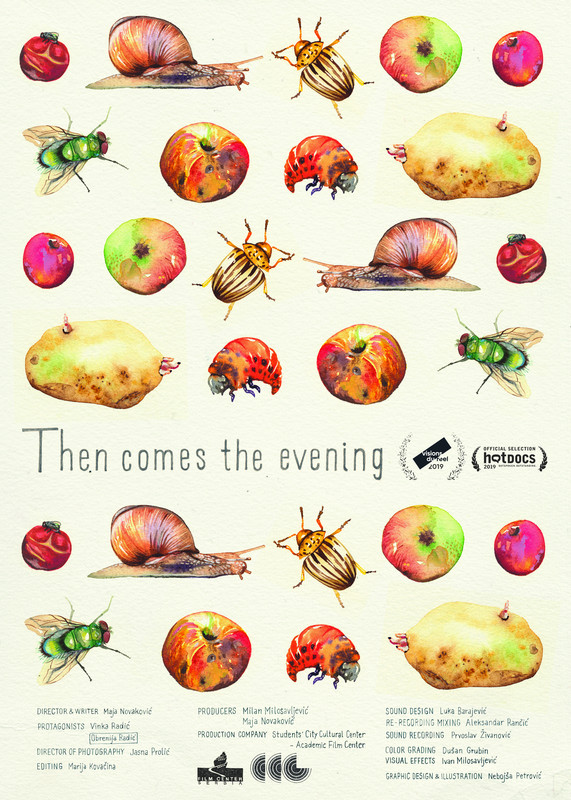 Set amid the remote hills of Eastern Bosnia, THEN COMES THE EVENING provides a quiet meditation on the seemingly uncomplicated pastoral lives of two women. Through simple and precise composition with attention to light and texture, the mundane details of their lives are rendered with the tactile richness of an oil painting. Their every action and word is infused with ceremony, ritual, and intangible cultural heritage in this intimate yet epic examination of how nature and humanity interact.
Director: Maja Novaković
Writer: Maja Novaković
Producer: Maja Novaković, Milan Milosavljević

Cinematogarphy: Jasna Prolić
Editing: Marija Kovačina
Sound design: Luka Barajević
Keycast: Obrenija Radić "herself" , Vinka Radić "herself"

Art director: Maja Novaković

Production assistan: Nikica Novaković
Runtime: 27 minutes 30 seconds

Country of Origin: Serbia
Country of Filming: Bosnia and Herzegovina
Language: Serbian
Subtitles: English

Maja Novaković
Novaković holds a Master's in Art History and is currently undertaking a Ph.D. on the work of Sergei Parajanov at the University of Belgrade, she is also a researcher at the Mathematical Institute at the Serbian Academy of Sciences and Arts. Then Comes The Evening is her first film.
---